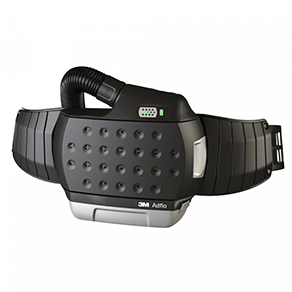 3M™ Adflo™ Powered Air Respirator
Is there a way to both increase your respiratory protection against harmful welding fumes while increasing the comfort around your face and head?
Tackle workplace hazards with a respiratory protection solution workers will want to wear.
As one of the most popular respirators of its kind in the world, the 3M™ Adflo™ Powered Air Respirator is designed to provide welders a constant nominal airflow rate of 205 liters per minute, regardless of the battery's charge or the particle loading of the filter.
Green for go
As soon as you turn on your Adflo powered air respirator, a display indicates the status of the filter.
Green light means that the unit is working normally. Red light indicates that the filter is clogging up