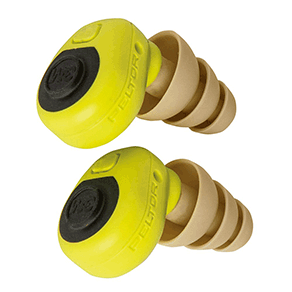 3M™ PELTOR™ Level Dependent Earplug LEP-100
How can you protect your hearing but still communicate in workplaces with loud noises?
The 3M™ PELTOR™ LEP-100 amplifes weak sounds (like voices) when noise levels are low while attenuating loud noises while attenuating loud noises— even sudden loud noises
Added convenience
Replaceable eartips are available in small, medium, and large sizes and two different designs to accommodate most user's ear canals:
• UltraFit™ Eartips, NRR of 25 dB1)
• Skull screw tips 32 dB1)

Rain or wind
Water resistant microphone port also helps minimize wind noise

Easy operation
Intuitive one-button operation turns the unit on and off, and selects volume settings.

Long usage time
The rechargeable Li-ion battery provides up to 16 hours of continuous operation.