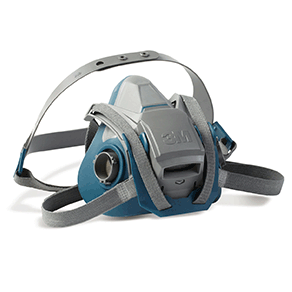 3M™ Rugged Comfort Half Facepiece Reusable Respirators and Filters
When shifts are long and conditions are challenging, your workers will appreciate the 3M™ Rugged Comfort Half Facepiece Reusable Respirator 6500 Series. With 3M's Quick Latch drop-down mechanism and Cool Flow™ Valve, respirators are easy-on and easy-off for comfortable protection.
• Our lightest silicone facepiece keeps it shape, even in high-heat environments.
• Low-profle, wide feld-of-view design.
• Easy on and off with our convenient Quick Latch (QL) Drop-Down Mechanism.
• Easier breathing with 3M™ CoolFlow™ Exhalation Valve.
• Adjustable head harness assembly.
• Compatible with all 3M bayonet-style cartridges and flters.